SUSTAINABLE SCRAP: S&J AUSTRALIAN SCRAP TYRE DISPOSALS GO ALL-ISUZU 

They're tough, rubbery and resilient— and they carry us safely from work to play, school to holidays. But where do our tyres go when they've worn out? "Making a tyre is like baking a cake—it's a one-way process," explains Steve Hayes from S&J Australian Scrap Tyre Disposals.
"The sulfur and carbon in rubber (like flour and sugar in a cake) are bonded together and inseparable, which has made tyre recycling very difficult to achieve in the past."
Highly durable and non-biodegradable, tyres have consumed vast spaces in landfill around the world, becoming a challenging source of waste. The problem became so bad that Australia's government stepped in with legislation like Queensland's 2011 Waste Reduction and Recycling Act, bringing about major reductions in dumping and needed progress in tyre recycling.
With over 30 years' experience transporting and recycling scrap tyres across Queensland and northern New South Wales, Steve has seen it all with his company S&J Australian Scrap Tyre Disposals.
From beginning the business in 1991, a sizeable portion of their work has come from cleaning up the stockpiles left by failed tyre collectors. Steve teamed up early on with leading tyre recycler, Chip Tyre Pty Ltd, supplying tyres used for their recycled crumbed rubber production facility. Crumbed rubber has many varied uses today: from roads and matting to tile adhesives and blast resistant concrete.
"Since 1991, we've always tried to support next best use for the tyres," Steve said. "Dumping of whole tyres is no longer acceptable and with the state of our landfill, just not a good idea. "I started out with one truck and my own tyre shredding facility, but we've grown a lot from there."
Sustainable business is something Steve is passionate about, and while he's looking out for environment, he's also looking after his driving team. He can be spotted all the way down to Western Australia, bringing back cutting edge equipment to reduce manual handling and driver fatigue.
"I've just purchased two new Isuzu FXY 240-350 Auto 6x4s from Brisbane Isuzu, with walking floor bodies manufactured by Allroads Transport Engineers in WA," Steve said. "They're such a good upgrade for the workers, we'll be looking at buying another two trucks with the same configuration before the year's end."
The tough-as-nails FXY isn't the only Isuzu truck suited to S&J's interstate tyre disposal service. A fleet of 13, ranging from the brawny NPR 65-190 all the way through Isuzu's workhorse F Series to the heavier duty FXY 240-350, are loaded high to help small clients through to commercial giants to remove their rubber.
It's a six-day-a-week operation and each of S&J's trucks can clock up to 800 kilometres a day, pushing 100,000 kilometres per year (per truck). That's a lot of time in the seat for a driver.
"Some of these trucks a do a fair old distance, up to 12-hour shifts for the drivers to complete their round," Steve explained. "Our recent purchases have all been trucks with automatic transmissions to reduce driver fatigue and for ease of operation. "The Allison auto in the FXY is bullet-proof. The drivers fight over the trucks, they just love them."
With experienced drivers unfortunately a hard-to-find breed in the year 2021, says Steve, he's keen to keep his current team onside.
"It's hard to find experienced truck drivers at the moment… I've talked to a lot of friends in the transport industry and it's like the tap just turned off during the pandemic. "For a lot of us, things have been busier than ever. We are hiring if you know anyone suitable!" he adds with a chuckle. "The drivers work extremely hard, and you need to keep them happy."
Reducing the manual handling aspect of tyre collection and disposal is one way to keep the team happy, with the bonus of increasing workplace safety. "We're in a manual handling industry, no denying it… our new FXY trucks with walking floors have alleviated manual labour by almost 50 per cent.
"Instead of taking an hour to unload a truck, we're doing it in a very economical eight minutes now. "We have a forklift behind the truck, so there is zero manual lifting involved in our local heavy truck tyre operation … and the roll-over tarp is fully automatic, you just press a button and tarp goes right over the load" Steve continued. "That's where we want to be for all our drivers in the future—with none of them having to do any heavy lifting or manual handling."
Steve and son Josh Hayes—who is now taking on the reins as S&J's Operations Manager—rely on the Brisbane Isuzu dealership to provide silver service for the fleet, taking advantage of their night-time servicing options.
"We get exceptional service from Brisbane Isuzu; they've helped us reduce downtime significantly… and that's part of why I chose to go with Isuzu in the first place."
"We take a truck in at 4pm in the afternoon and it will be back on the road again in the morning. "The service as far as value for money and maintenance is spot on. It suits me very well."
In answer to our obvious question (what's the drive like in the new FXY, cobber?), Steve gives a laugh in reply. "How does it drive? Ask my wife. "She drove it back from WA and absolutely loved it!"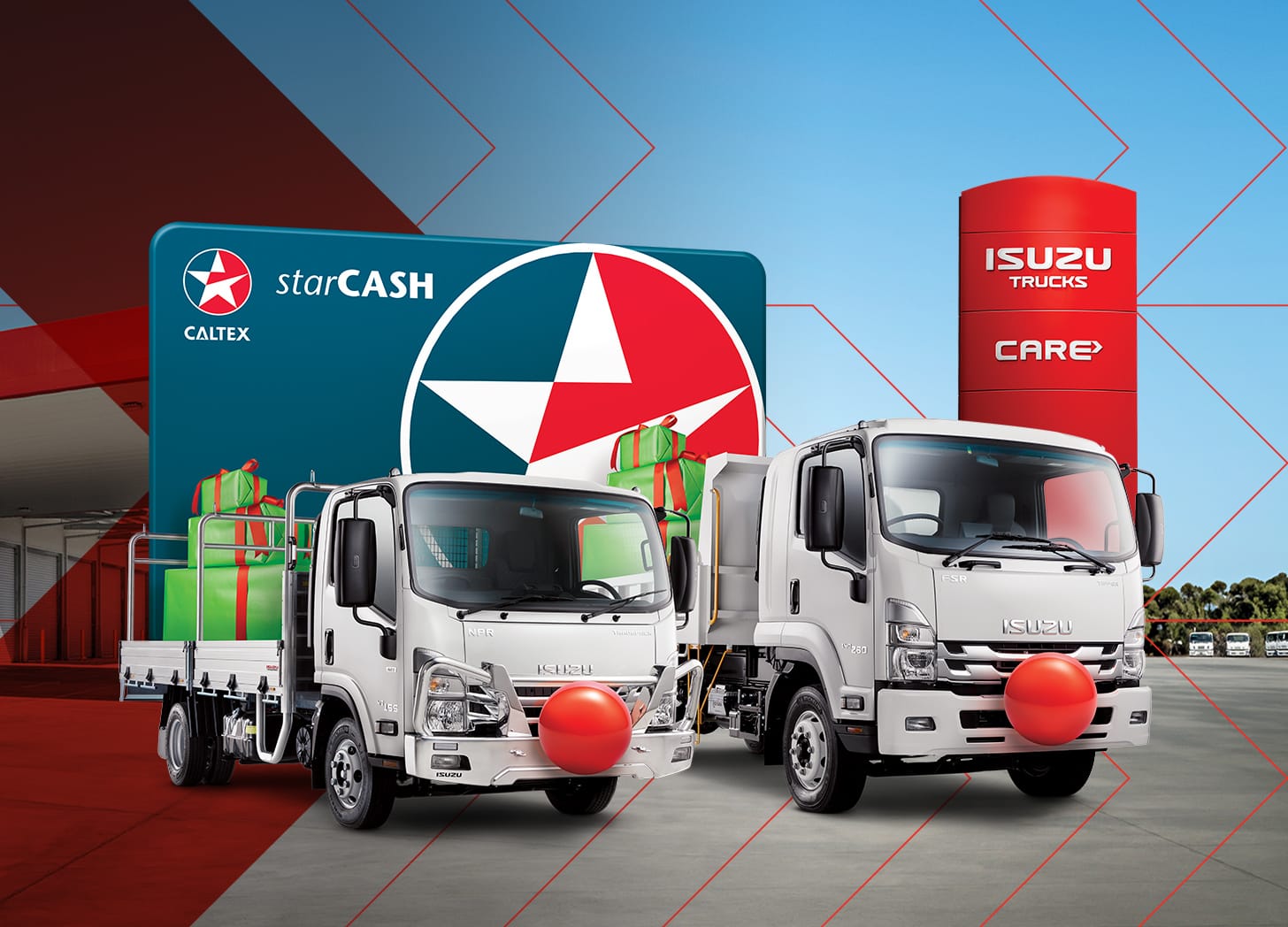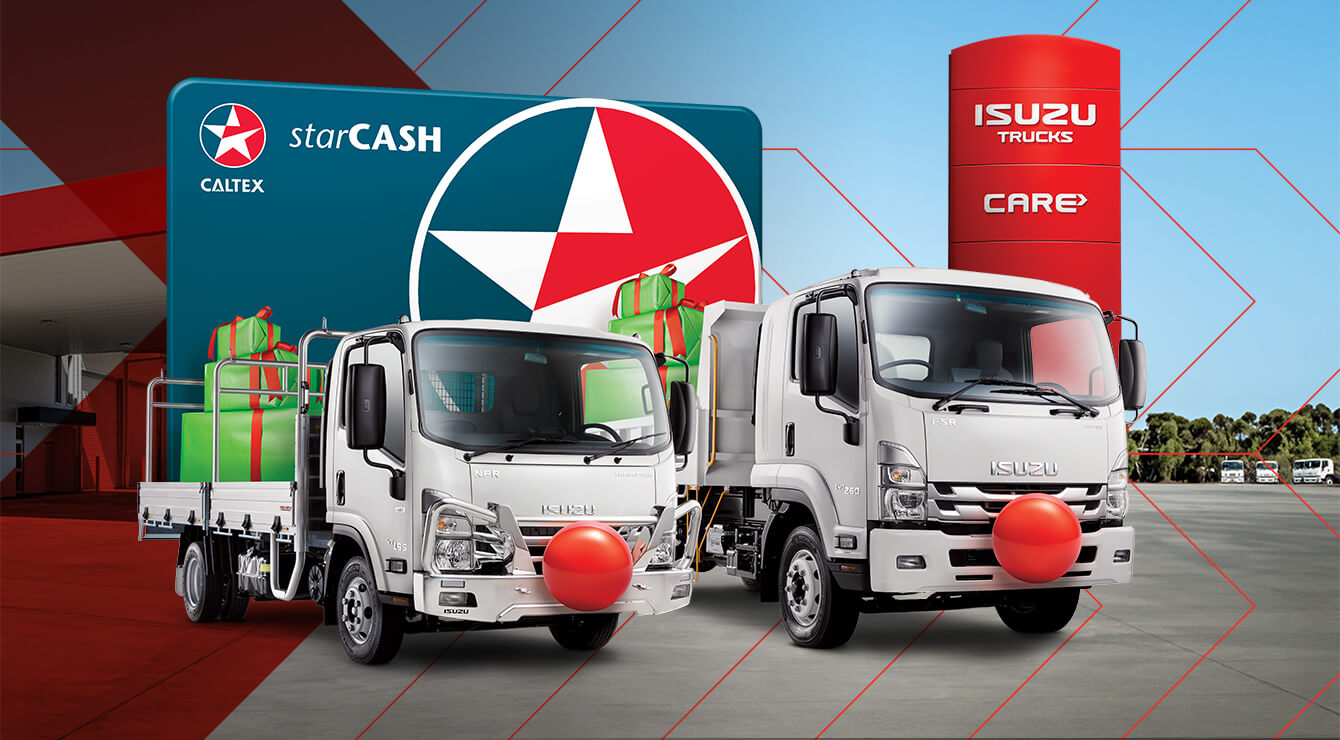 Merry Truckmas - Win $2,000 in Weekly Prizes
Throughout Nov and Dec, Isuzu is giving away weekly $2,000 prize packs, which includes a $1,000 Caltex StarCash Fuel Card, plus more prizes.
Enter now