KEEPING ON: SOUTH WEST ISUZU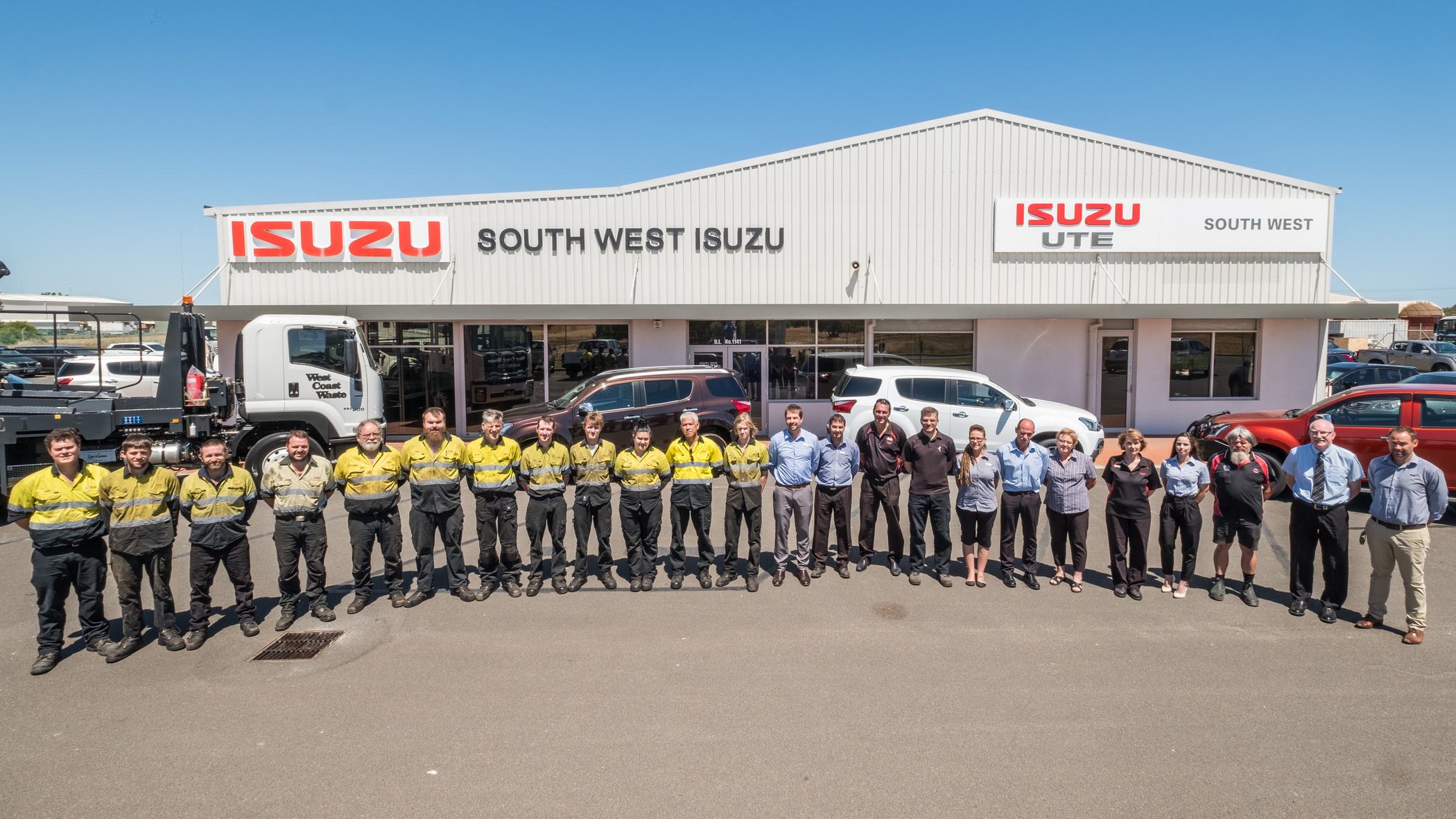 Since being awarded the
2019 Isuzu Trucks National Dealer of the Year and 2019 Isuzu Trucks Service Dealer of the Year awards
back in February,
South West Isuzu
Dealer Principal, Darren Sprigg, and his team have been working hard to keep their Western Australian customers on the road and getting the job done. The effects of a global pandemic notwithstanding, South West Isuzu has seen a boost in demand for sales and service in the west. With trucking and road transport shining through as a vital essential service, the team at South West are leaving no stone unturned as they vie for another shot at Isuzu Trucks' most coveted honour.
All hands on deck
With six years at the helm of South West Isuzu, Darren maintains an unwavering focus—especially on growing relationships with loyal customers, and harnessing the potential of
the Isuzu dealership's full-service facility
. He's also making sure the dealership team, including management and other stakeholders, are all on the same page when it comes to the strategic direction of the business and its award-winning, best practice standards. "I think the number one thing to building a business is having everyone on the same page with common goals. Staff, management, suppliers, customers… everyone," Darren said. "We have a playbook that everyone lives by here, covering everything from business direction through to documented culture, SWOT analysis of products and services, and marketing plans, both internal and external. "Since COVID-19 hit, having everyone working smoothly together is even more important. We've been lucky to have a stable team with very little staff turnover. "We've been very careful to put into place best practice hygiene standards and clear safety directions for all during this time. As a result, we've still been able to continue our sales and service work and grow the business."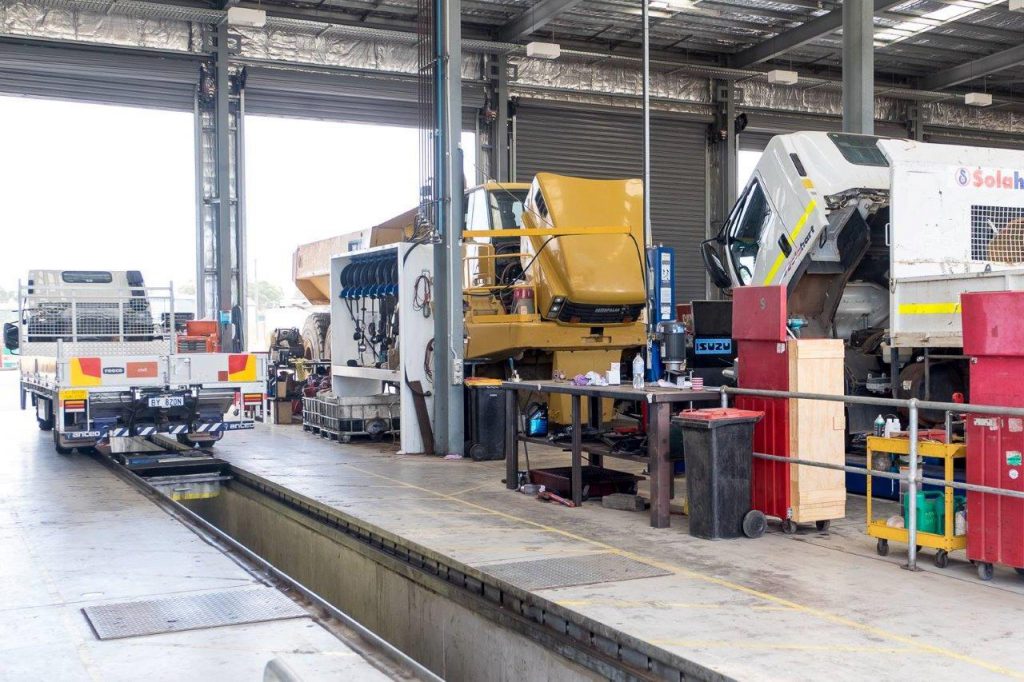 Challenge accepted
In spite of the challenges brought on by the ongoing COVID-19 pandemic, South West Isuzu has retained and even grown its loyal following. "We were doing a lot of worst-case scenario modelling earlier the year, and we did see a reasonable downturn in late March and early April," Darren said. "But by the end of June we had record enquiries coming in from businesses open to the available government stimulus measures. "In particular, the
increased Instant Asset Write-Off threshold
has been an amazing boost for all sorts of businesses," Darren said. Acknowledging the dealership enjoyed a strong market share in 2019, Darren said resting on past laurels wasn't on the cards. "A couple of years ago we really challenged ourselves to significantly increase our market share, and we achieved that—even though our share was already quite strong. "This year we've worked on making sure our stock on hand is in tune with the needs of our customer base here in Western Australia. In fact, our ability to react and respond to customer feedback and demand has been a real strength through this pandemic."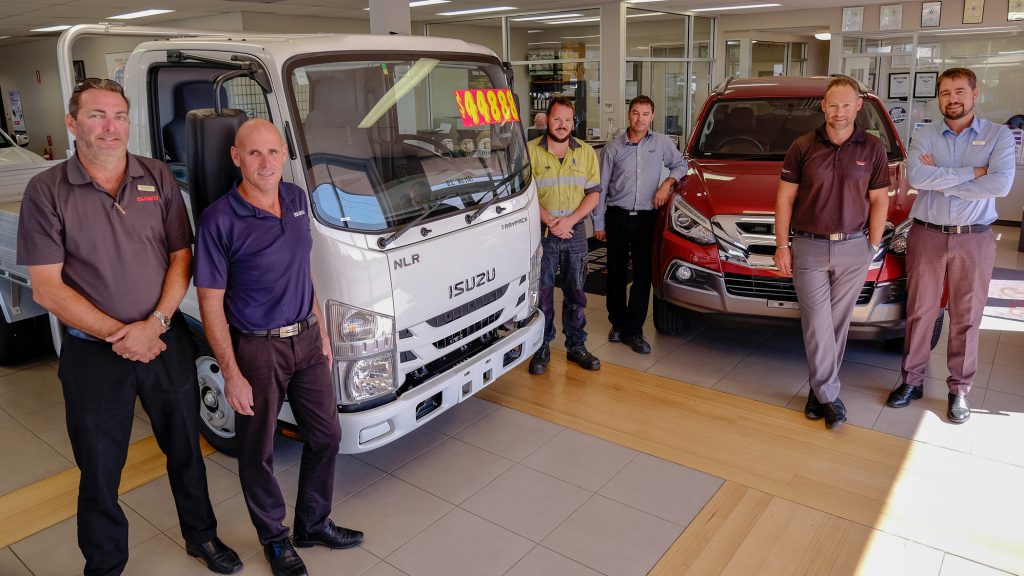 In the veins
Located in Picton, in the south-west region of WA, the
South West Isuzu
dealership is situated near the idyllic beaches of the west coast. After graduating from high school, Darren joined his father's dealership, gaining hands-on industry experience. He worked his way up the ranks, spending years in truck servicing and parts roles before eventually landing on the sales side. "My father was an Isuzu Trucks dealer even before I was born," he said. "The family had three locations—rural dealerships. Not all were single-brand Isuzu dealerships but the old man's favourite was always Isuzu trucks," said Darren. "However, in 1999—after some time in the business—we decided as a family to sell our dealerships. "Following that decision, I travelled for some years with a new role, teaching a few things, learning a few things." Having taken time out to study Business and Accounting, Darren came back into the industry to help his dad return and take over Jem Truck Sales, now South West Isuzu.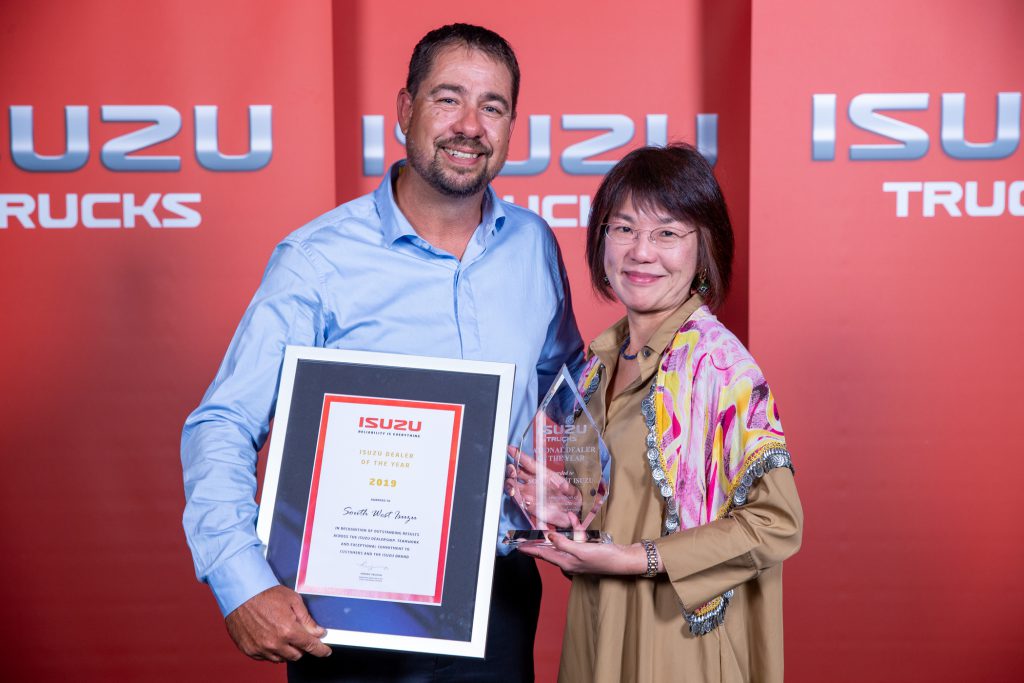 National Dealer of the Year (2019) 
Darren is full of pride for the team at South West Isuzu, and rightfully so, with the dealership taking home both the
2019 National Dealer of the Year and the 2019 Service Dealer of the Year
awards. "I'm proud and happy for the team that we received recognition for our efforts. It gives the team credit and the knowledge that they've been doing the right thing. "It's also a pleasure to be part of the Isuzu family. We're grateful to have stable Isuzu Trucks Zone Managers out here that cover everything from sales, parts and service... having great people backing a great product just can't be overstated," Darren said. "As for being awarded with Service Dealer of the Year, our Service Manager, Dean Pollard, is a phenomenally motivated person, with a serious level of vision as well. He's always innovating and giving it a go. "In many respects, that's what really underlines our working philosophy here—the whole team is highly motivated, and with our customers in mind, we're always asking ourselves, 'what can we do better?'"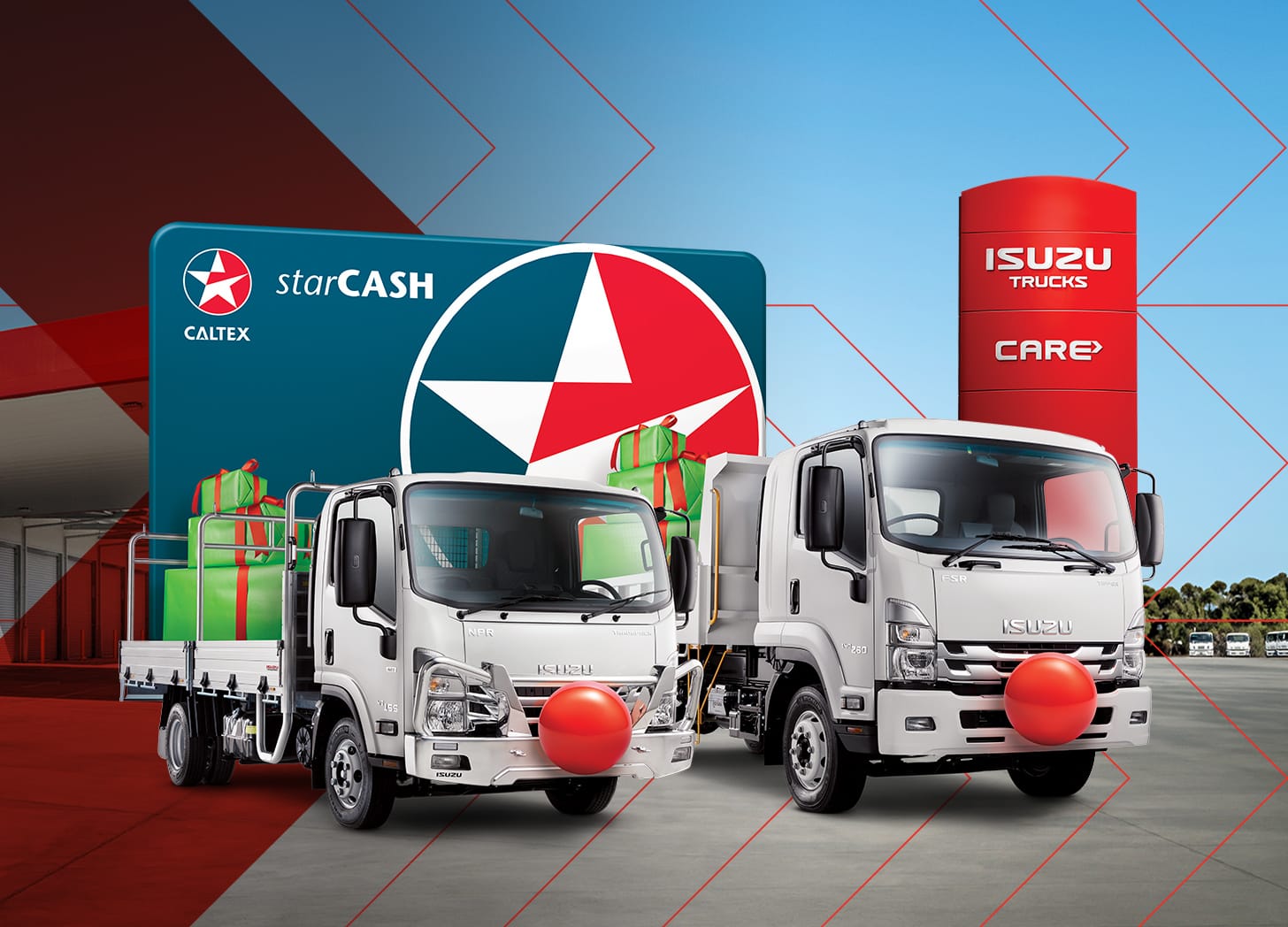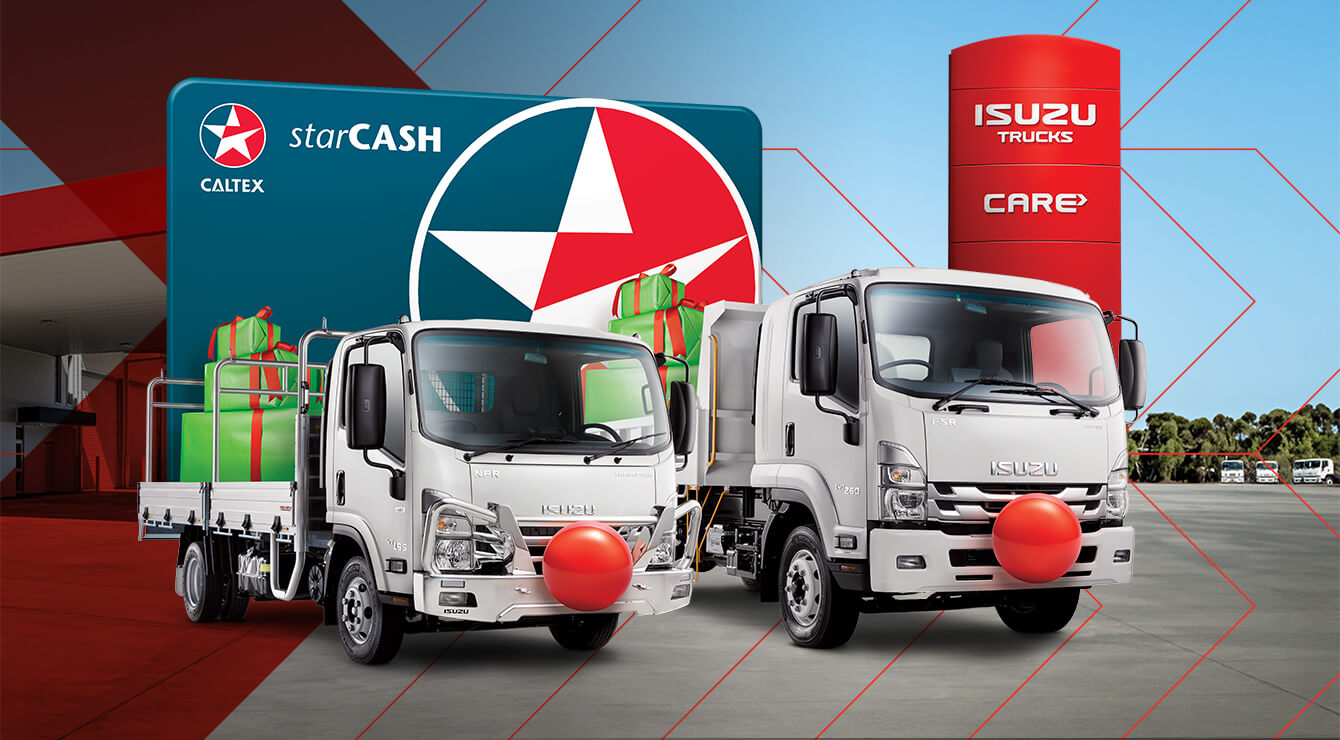 Merry Truckmas - Win $2,000 in Weekly Prizes
Throughout Nov and Dec, Isuzu is giving away weekly $2,000 prize packs, which includes a $1,000 Caltex StarCash Fuel Card, plus more prizes.
Enter now