ISUZU TRUCKS AND MILDURA TRUCK CENTRE SUPPORT SUNITAFE AUTOMOTIVE TRAINING PROGRAM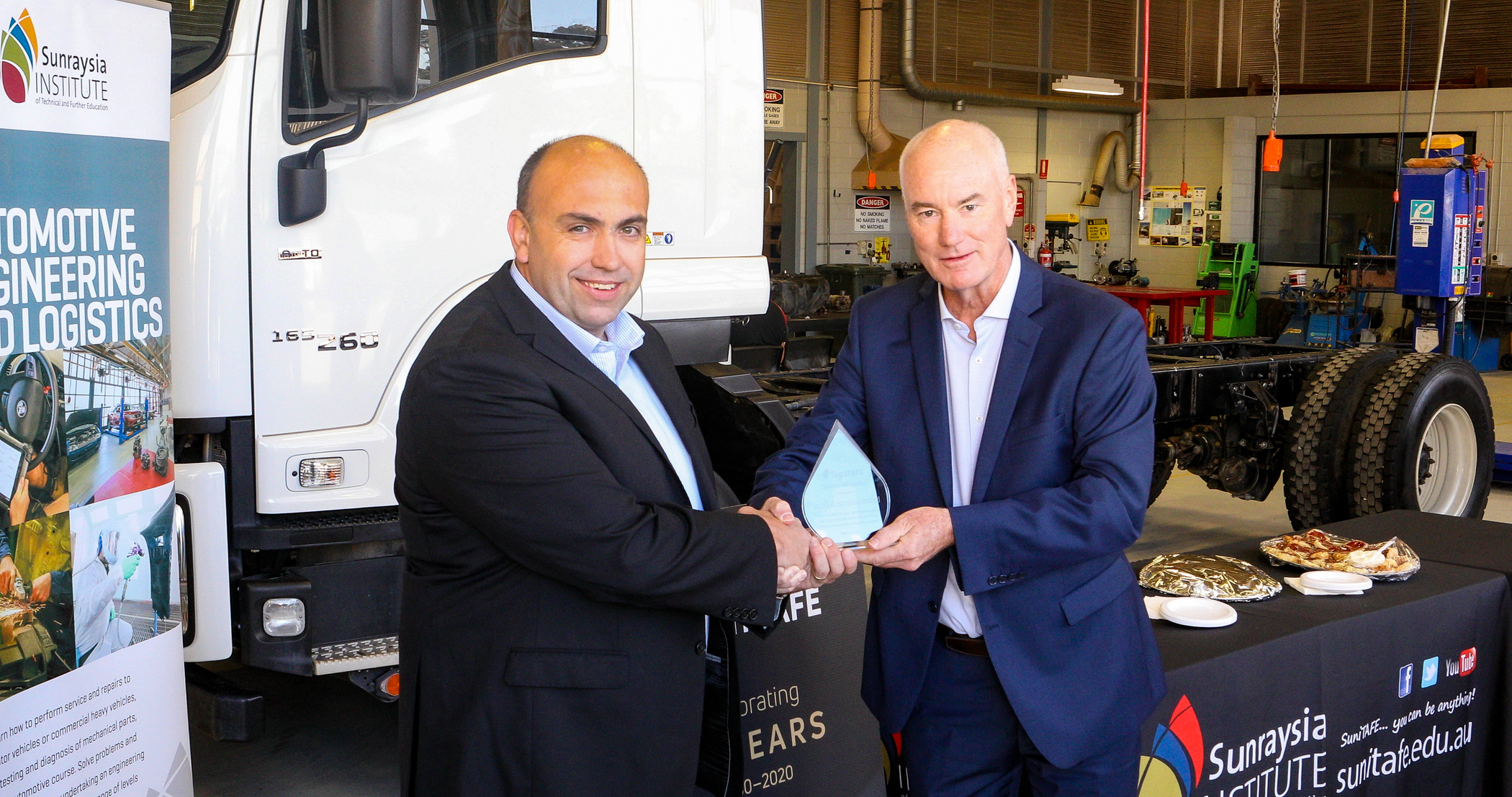 With continued increasing domestic and global demand for truck technicians, quality vocational training from Australia's technical and further education (TAFE) institutions is playing a key part in skilling up the next generation of workers for this essential role.
Locally, it's estimated that 19,000 trained techs are needed to support the industry, with fault diagnosis in particular demand.
The requirement for skilled truck technicians is reflected in our nation's
employment statistics
; the automotive repair and maintenance trade sees automotive techs as one of the top employing occupations. In a bid to contribute to the direct experience of service technicians in regional Victoria, Isuzu Australia Limited (IAL) and
Mildura Truck Centre
have announced the donation of a new model F Series Isuzu truck to the
Sunraysia Institute of TAFE
(SuniTAFE).
Pictured from left to right: IAL National Service Manager Brett Stewart, and SuniTAFE CEO Geoff Dea.
Mr Dea spoke at the handover ceremony.
Industry training and education
Represented by IAL National Service Manager Brett Stewart and Mildura Truck Centre Director Rodney Leake, Isuzu Trucks and Mildura Truck Centre recently delivered the medium-duty
FVD 165-260 Auto
to the remodeled SuniTAFE workshop on its Mildura campus, for the school's heavy automotive course. Supported by the longstanding industry relationship between Mildura Truck Centre and Isuzu Trucks, Mildura Truck Centre is committed to developing and encouraging the local road transport industry, including industry training. Alongside IAL's current initiatives, such as the
National Technical Skills Competition
, to support the growth of the next generation of skilled technicians, the donation to SuniTAFE aims to provide more automotive students the opportunity to work on a real-world truck equipped with up-to-date technology. Mr Leake said, "For the past 69 years, we at Mildura Truck Centre have been dedicated to the education and upskilling of the next generation of skilled truck technicians, and we are proud to have been able to train over 100 apprentices over the years. "We have been working with SuniTAFE for a long time in regard to apprentice training, and over the years Mildura Truck Centre and Isuzu have supported the institute's automotive programs with industry knowledge and relevant truck products."
Quality resources, quality education
SuniTAFE's heavy automotive course was initially offered only at the school's Swan Hill campus, but it was recently expanded to the Mildura campus, allowing Mildura-based students to train locally. Mr Stewart commented on the donation to SuniTAFE and said, "We're happy to be able to contribute a current model FVD 165-260 to SuniTAFE, helping them to provide quality education for their automotive students. "The new facility at their Mildura campus is a great training ground for the next generation of apprentices and technicians, and we're pleased to be able to help support the professional development of these students where we can. "Providing learning opportunities for automotive technicians to gain pertinent, hands-on industry experience, working on a real truck with the latest truck tech is important, especially in the face of a skilled truck tech shortage in the industry." Mr Leake also added and said, "Mildura Truck Centre has been working with SuniTAFE to obtain the necessary training resources for the program, and the response from industry partners like Isuzu Trucks has been remarkable."
Cultivating skilled techs
SuniTAFE's heavy automotive students learn a wide range of skills from service and repairs of commercial heavy vehicles to that of passenger vehicles, as well as testing and diagnosis of mechanical and electrical parts and faults. Peter McLean, SuniTAFE's heavy automotive teacher, said that interest in the new Mildura facility and the updated heavy automotive program has been strong. "Apprentices are walking through the door, and with the new truck we expect them to keep coming… We're at 45 apprentices and growing. "We greatly appreciate the donation from Mildura Truck Centre and Isuzu Trucks, along with all the other businesses that have contributed to the program. "It allows the apprentices to learn the latest technologies, using machinery that is currently available on the market, which they will no doubt be working on in a real-life sense in the future. "The donated Isuzu truck has a range of new systems that our older training trucks don't have, allowing our apprentices to attain more relevant experience and training." Mr Stewart added and said, "With
nearly one in four trucks sold in Australia an Isuzu
, it is important that we are supporting the next generation of technicians. "Without skilled truck technicians, the entire industry will struggle, so it's vital Isuzu Trucks does what it can, where it can, to not only help provide relevant learning opportunities, but also help lift the profile of truck technicians."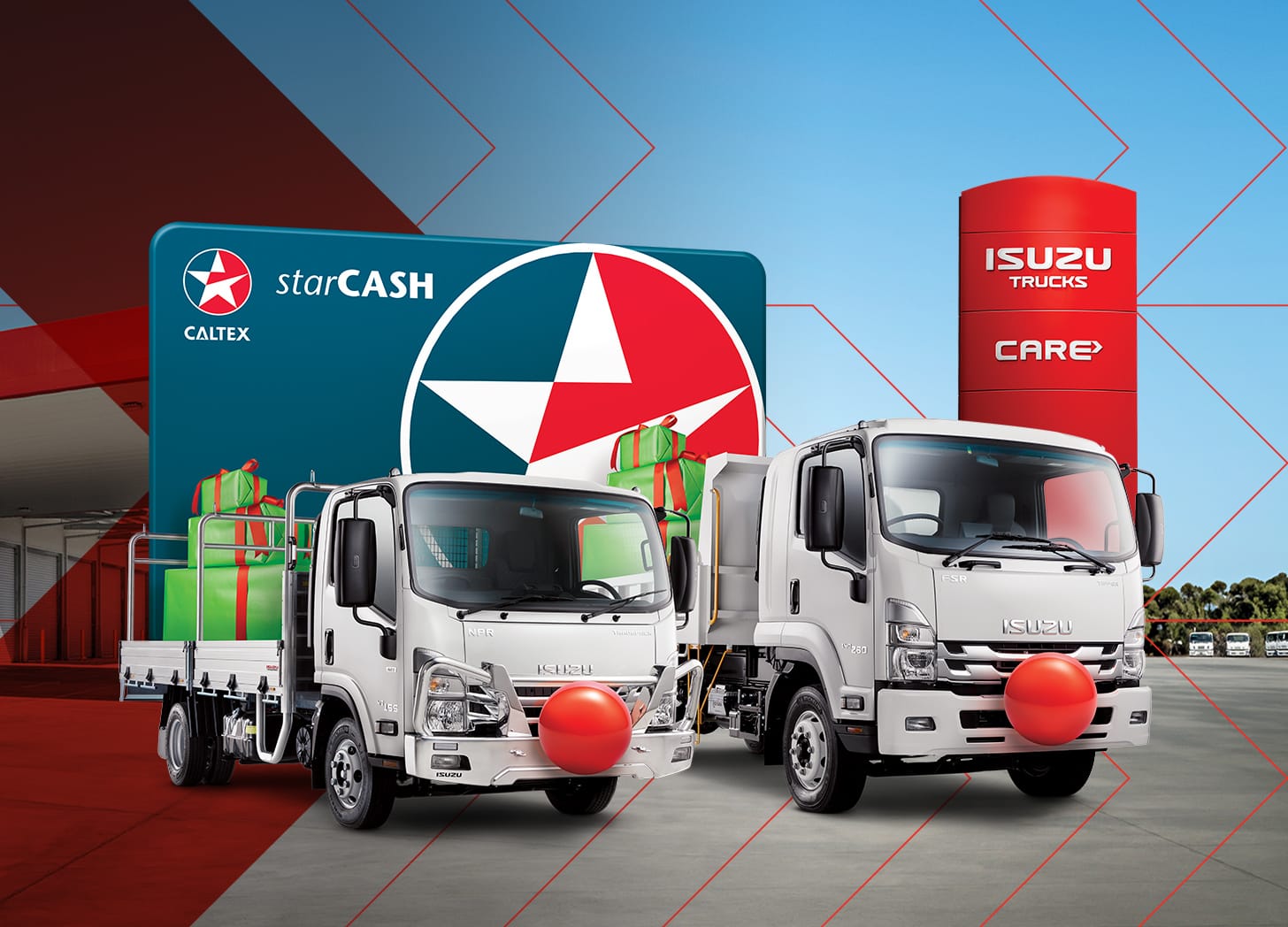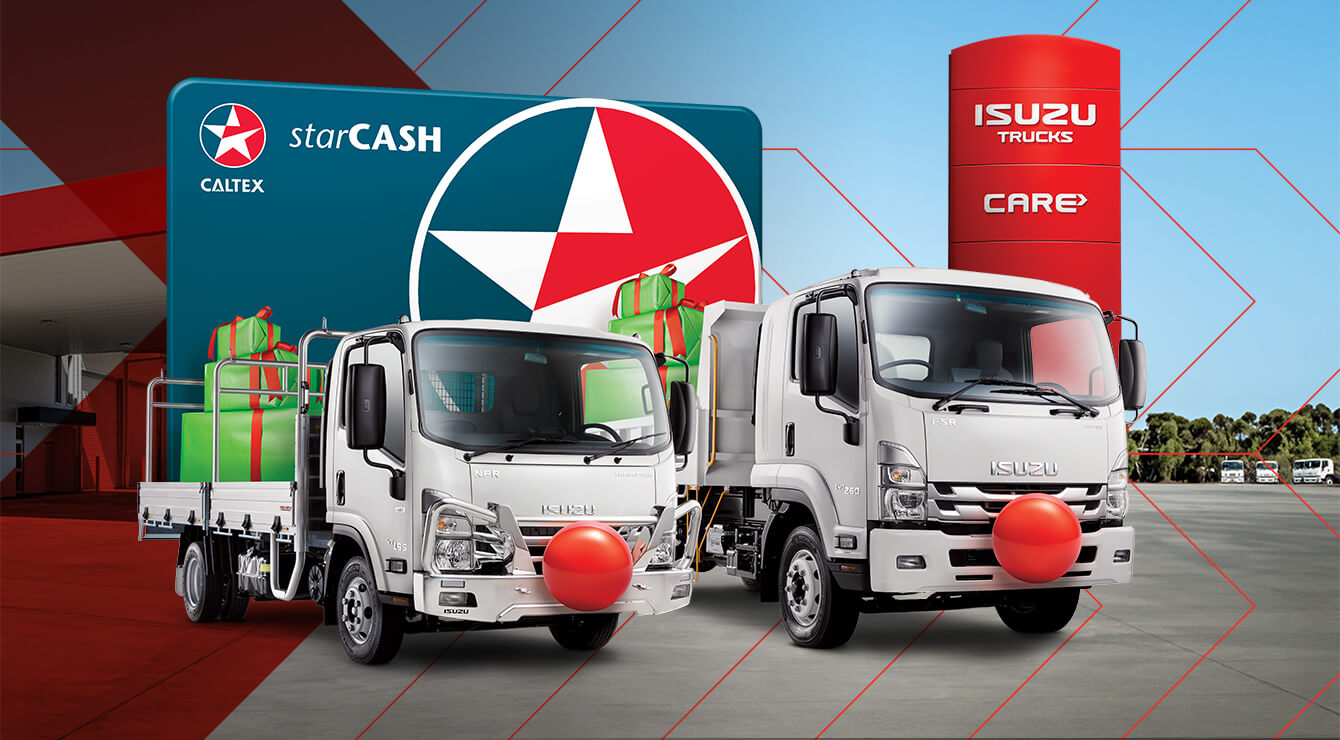 Merry Truckmas - Win $2,000 in Weekly Prizes
Throughout Nov and Dec, Isuzu is giving away weekly $2,000 prize packs, which includes a $1,000 Caltex StarCash Fuel Card, plus more prizes.
Enter now