High & Mighty: LED Sports Lighting And Isuzu Trucks

Amidst careful navigation around COVID-19 and its disruptions and risks, some sports fields have seen cautious reopening and return to use. With this comes the need for appropriate lighting and regular electrical maintenance, and Managing Director, John Hellyar, of LED Sports Lighting Australia says it's full speed ahead for them—with appropriate precautions in place, of course.
"The majority of our work is outdoors so we can implement social distancing easily… if the wheels have been turning a bit more slowly, it's definitely getting better now and we've actually put on an apprentice during the pandemic," said John.
A special division of Rees Electrical, LED Sports Lighting has over 100 years of combined construction and electrical experience, with services that span stadium sports lighting and open space electrical works, through to footing and pole design, main switchboard installation and connection of electrical supply.
And if the team isn't actually kicking goals on the field (literally speaking), they work hard at winning businesses all over New South Wales and Victoria with sharp industry knowledge and first-class machinery. With a growing company and the safety of his 30-plus crew top of mind, John is particular about choosing quality equipment that supports the business long-term.
On the machinery side of things there's a host of Caterpillar excavators and Italian-made Effer Cranes. On the truck side, there's a diverse fleet, which includes four Isuzus: the Ready-to-Work NLR 45-150 Tipper and NLR 55-150 Tri-Tipper, an FVR 1000 (FVR-165-300), and their most recent acquisition, a one-of-a-kind FYJ 300-350 acquired from Suttons Trucks and painstakingly outfitted in 2019 by commercial vehicle bodybuilder Obieco.
"This FYJ is unique. It has an Effer 395-6S crane with 16.85-metres of reach, lifting an impressive 1,630 kg, and10- and 20-foot container twist locks.
"It also has a deck that can take a 12.3-tonne payload, and fold-down beaver tails that help in loading excavators and machinery—these also form part of the tray floor, which is an extremely useful feature compared to normal beavertails," said John.
"The removable tipper body has a 9.8-tonne payload and is fully operational from within the driver's cabin. It's the first removable tipper built onto a beavertail in Australia, thanks to that impressive rear ramp design by Obieco Industries.
"We call it our Swiss Army Knife." It's not the only nickname the new truck is sporting, with experienced driver Troy taking the FYJ under wing, dubbing it "Troy's Toy".
"Troy's got an old head on his shoulders, I know the equipment is being looked after when he's got it," John explained. "Spending this amount of money on a truck, I had to have someone responsible for it, give someone ownership of it… I know he gives it the spit and polish on the weekends, every time I see it it's looking sharp."
Tasked with the heavy-duty work of transporting poles and machinery and also assisting with the construction of light towers up to 57 metres tall, the Isuzu FYJ 300-350 is living up to its promise of reliability and performance. As a seasoned business owner, John has a keen eye for assets that are worth their weight in gold.
"Reliability is very, very important to me because any downtime equates to man-hours lost, people standing around. "If one of my trucks breaks down, and it's usually got machinery on the back too. In the case of a breakdown, I could have four staff twiddling their thumbs. "Depending on the job at hand, the FYJ is easily clocking up 300 to 500 kilometres a week, and we haven't had any issues with downtime or repairs and wouldn't expect to with an Isuzu."
Upgrading the fleet to include the heavyweight FYJ was an essential move for the business, and one that wasn't taken lightly by John. The crucial factor was the ability of the truck to support the Effer 395-6S Crane, while still having payload to spare for poles, tools and gear.
It came down to the nitty-gritty, and the FYJ 300-350 was the clear winner with Meritor axles all round; load-sharing front suspension equalisers with shock absorbers; Hendrickson airbag rear suspension and outboard-mounted double-acting shock absorbers. All of this complimenting a 9.8-litre engine with 257 kW @ 2,000 rpm and 1,422 Nm @ 1,400 rpm.
"For our business, the most important part of this truck is the Effer Crane. If I went for a heavier truck with maybe a bigger engine than the FYJ, I wouldn't be able to safely fit that size of crane over the front axle. "And of course, I wanted to get the biggest crane I could, there's no point in doing things by halves," John said with a laugh.
Power and payload will always reign supreme as key considerations for any truck purchase, but as John notes matters of style and comfort carry some weight too.
"I've taken the Isuzu to Tamworth and back—twice, and no complaints here. The ISRI air-suspension driver's seat is pretty comfortable, you can have it springy, firm, bouncy, whatever you want. "As for the drive… with the other little trucks you tend to be sitting right on the front wheel, if you hit a bump, you know about it—your head is nearly through the roof. "When I picked this one up it was like driving a spaceship."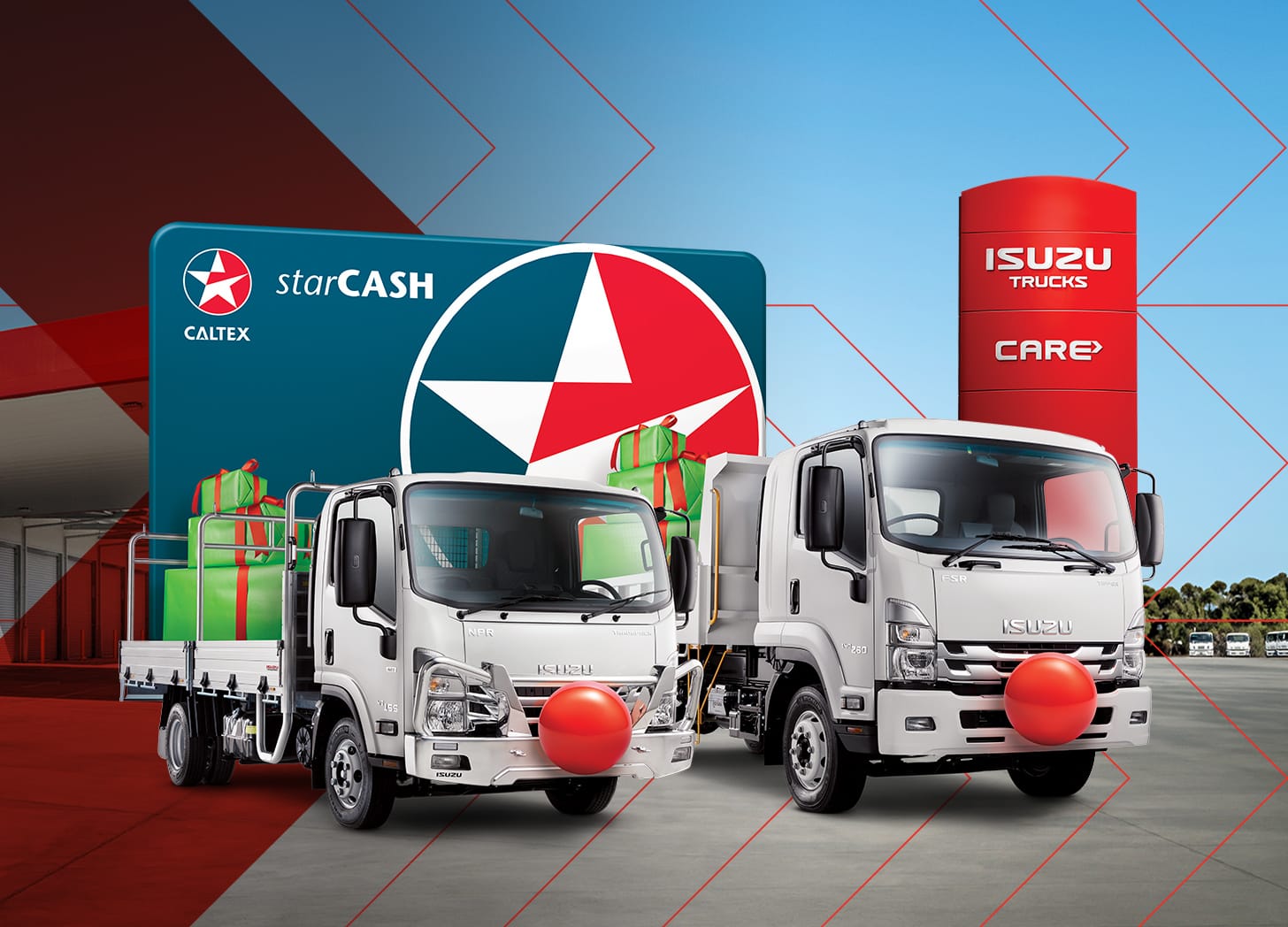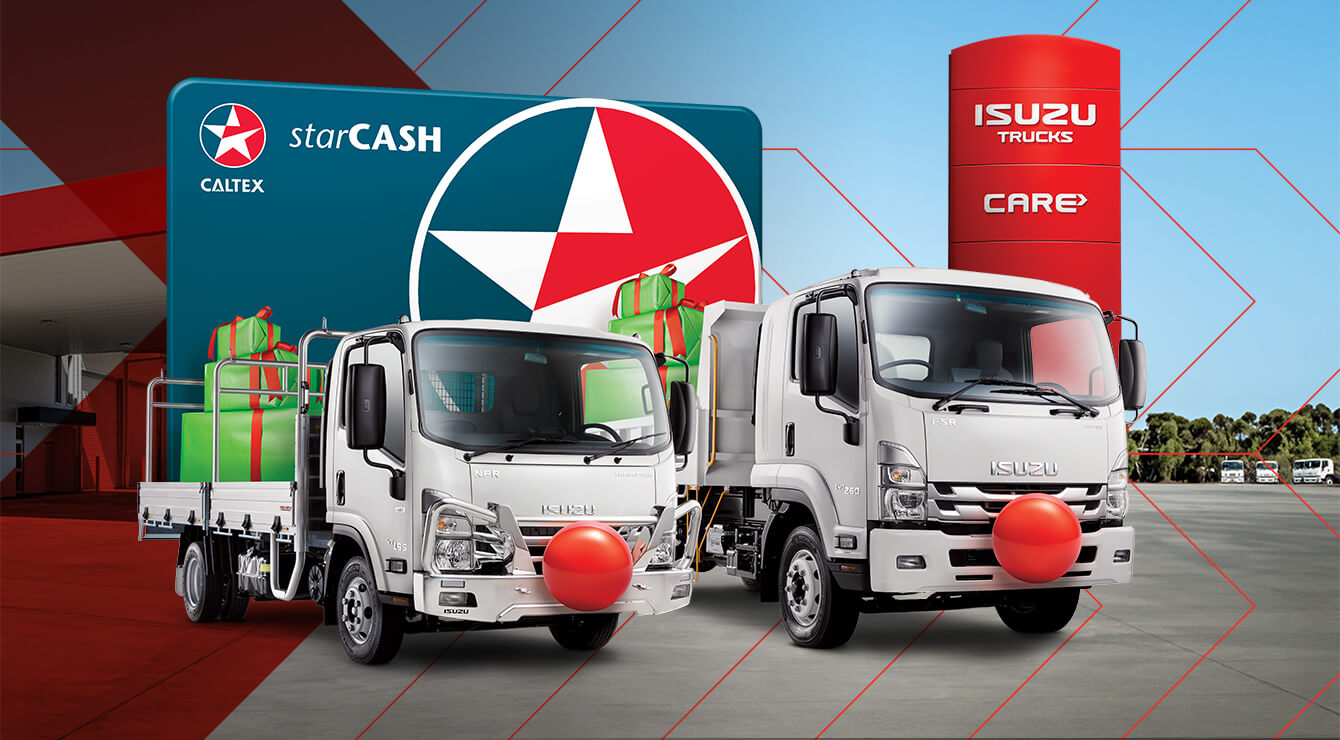 Merry Truckmas - Win $2,000 in Weekly Prizes
Throughout Nov and Dec, Isuzu is giving away weekly $2,000 prize packs, which includes a $1,000 Caltex StarCash Fuel Card, plus more prizes.
Enter now