2020 Isuzu Truck of the Year Competition: Winners Announced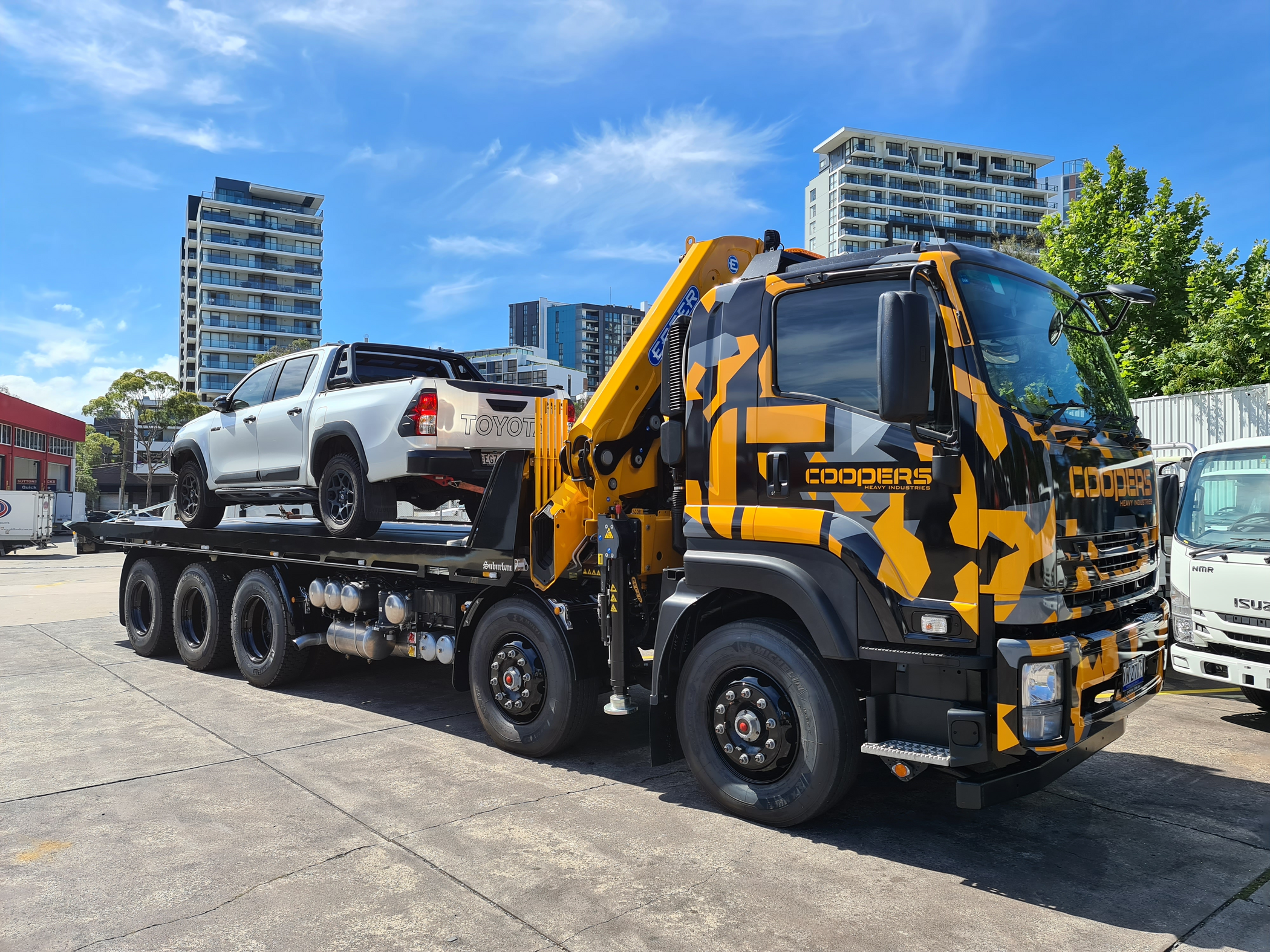 It's been 25 years since Isuzu Australia Limited's very first Truck of the Year Competition was held in 1996. Bringing like-minded truck owners and drivers together, the competition has celebrated hundreds of proud businesses and the trucks that support their operations. We certainly have fond memories of trucks big and small, in applications from hire fleets to home farms, working hard (on and off the road!) for loyal Isuzu customers!
Dormer's Hire: Winner of the 1997 Truck of the Year competition, appearing in an issue of Truckpower magazine Here's how the competition works: a winner is chosen each month from a pool of entries, and these winners go into the draw for the Grand Prize and the Series Prizes - N Series, F Series, FX/FY Series and Giga truck models. For the first time this year, we also introduced the People's Choice Award. This award goes out to a nominated favourite, chosen by Truckpower readers online.
2020 Truck of the Year: The Winners
The competition is always hotter than cutlery left on the Christmas lunch table—but there can only be one winner to take home the crown and glory. First things first: it's our honour to present Elmat Electrical and their Servicepack X as the first ever People's Choice Award Winner! Our congratulations to Elmat, who receive a $1,000 Visa cash card. Our hearty congratulations also go to the following entrants for taking out $1,000 cash prizes each as King of their respective truck range series.
This year's judging panel had their work cut out, choosing a Grand Prize winner from the standout entries in the monthly winner pool (from January through November 2020). Can we have a drum roll now… for Coopers Heavy Industries, November's monthly winner, the FX/FY Series Winner and our official GRAND PRIZE WINNER for 2020! Congratulations Coopers! Enjoy your well-deserved $6,000 Visa cash card and your new title as Isuzu's 2020 Truck of the Year.
TRUCK OF THE YEAR, & FX/FY SERIES WINNER – NOVEMBER / COOPERS HEAVY INDUSTRIES
If looks could kill, then this FYX 350-350 Auto from Coopers Heavy Industries has us slayed. Sporting the company's signature black and yellow camo wrap with a matching Effer Crane and custom tray, the FYX brings Coopers' mobile crane and transport services to clients across New South Wales.
Owner Dylan Cooper has only positive things to say about his heavy-duty beauty, "This truck feels solid, I love the simplicity and I love how quiet it is. Thanks for such an excellent product, Isuzu!"
N SERIES WINNER – MARCH / THE GRASSFATHER LANDSCAPES
The GrassFather Landscapes knows how to make an offer you can't refuse, with the NPR 45-155 AMT Tradepack supporting operations. Working hard to impress clients, Ryan Hewson says the overall functionality of the Tradepack is what makes it a prized possession and a one-stop shop for any tradie. The arresting black and gold wrap certainly has our attention!
F SERIES WINNER – SEPTEMBER / TONCA EARTHMOVING
"It drives like a car but has enough grunt for anything we throw at it. It's also versatile enough to carry machinery, a water tank and tow trailers," noted Joe Mammoliti about their Ready-to-Work FRR 107-210 Tipper.
Joe says the Tonca team enjoy the ruggedness of the Isuzu Tipper, and find the compact design and nimble handling make it perfect for tight access jobs.
PEOPLE'S CHOICE AWARD WINNER – AUGUST / ELMAT ELECTRICAL
Matthew Elliott reckons his NLR 45-150 Servicepack X is in the running for the brightest truck in Wendouree, Victoria, and it's hard to disagree! Making a striking first impression in an electric blue body wrap, Elmat's new Servicepack tows their mini excavator and scissor lift, while carrying tools and stock to clients. "It's a must-have for any tradesman," said Matthew. "And it fits down the Maccas drive-thru too…"
FEBRUARY / DARRYL MOORE ELECTRICAL
Darryl Moore couldn't praise his NLR 45-150 Servicepack X more, and not just for its role in helping him get to customers. According to Darryl, the Servicepack X is a pleasure to drive, with the smoothness of Isuzu's AMT topping the list of perks along with the capacity to carry all the tools and equipment he needs.
APRIL / TRENDLINE LANDSCAPES
Laurence Ursino at Trendline Landscapes says the power and payload of his Ready-to-Work NPR 65-190 Tipper can handle any job he throws at it—whether it's tipping loads of rocks and rubble, or carting excavation machinery to client's worksites. His favourite part of the truck? "All that chrome!" exclaimed Laurence.
MAY / EXCUTIVE PROPERTY MAINTENANCE
Executive Property Maintenance can attest to the versatility of the Isuzu product, with their sturdy NPR 65-190 fitted with tipper body suiting their garden and property maintenance business down to a T. Proud owner Steve Salvesani said their Isuzu drives like a comfortable car and couldn't be happier.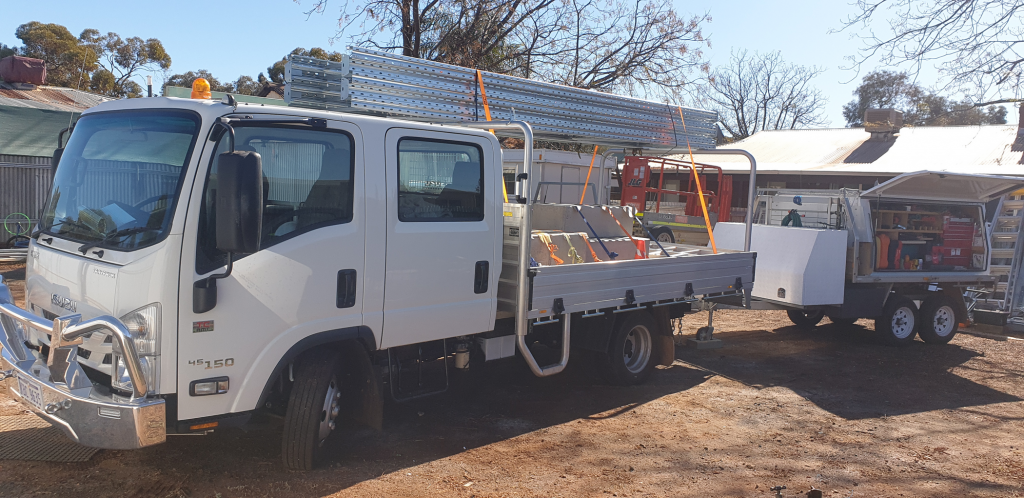 JUNE / BUILT BY HENRY
"One trip to deliver materials, tools, safety equipment and the crew to worksites, minimising cost and time wasted." Henry Wabwile said business efficiency has gone through the roof with the NNR 45-150 Traypack Crew Cab added to the team, giving the valuable gift of one-trip-only site visits.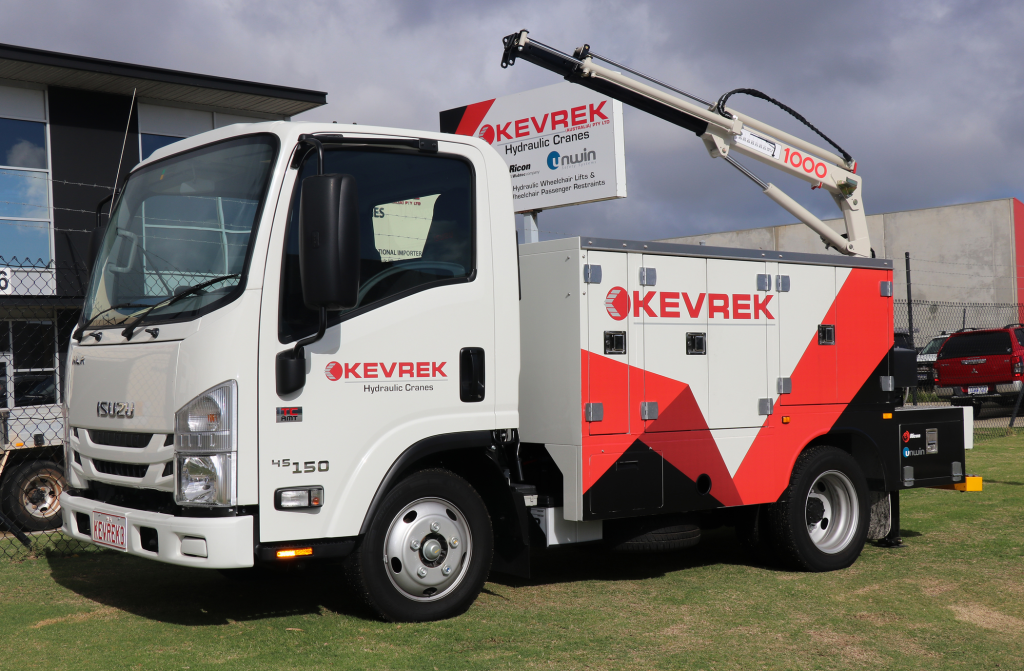 JULY / KEVREK AUSTRALIA
Proudly wrapped in striking livery and fitted with the K1000 crane, the NLR 45-150 Servicepack is perfect for all of Kevrek Australia's onsite servicing and repair needs. "Not only is the NLR reliable, a great size and easy to drive, it also allows all of our staff to drive on their standard car licences."
OCTOBER / ABSOLUTE ENTERPRISES
Absolute Enterprises can do it all—with the help of their NPR 75-190, geared-up and ready to bring off-road and emergency breakdown services to customers in need. In the sweltering climate of Mackay, Queensland, Absolute Enterprises needed a truck that could withstand heat and hold up under pressure, with plenty of power to pull a 4.5 tonne gooseneck trailer to digger shutdowns.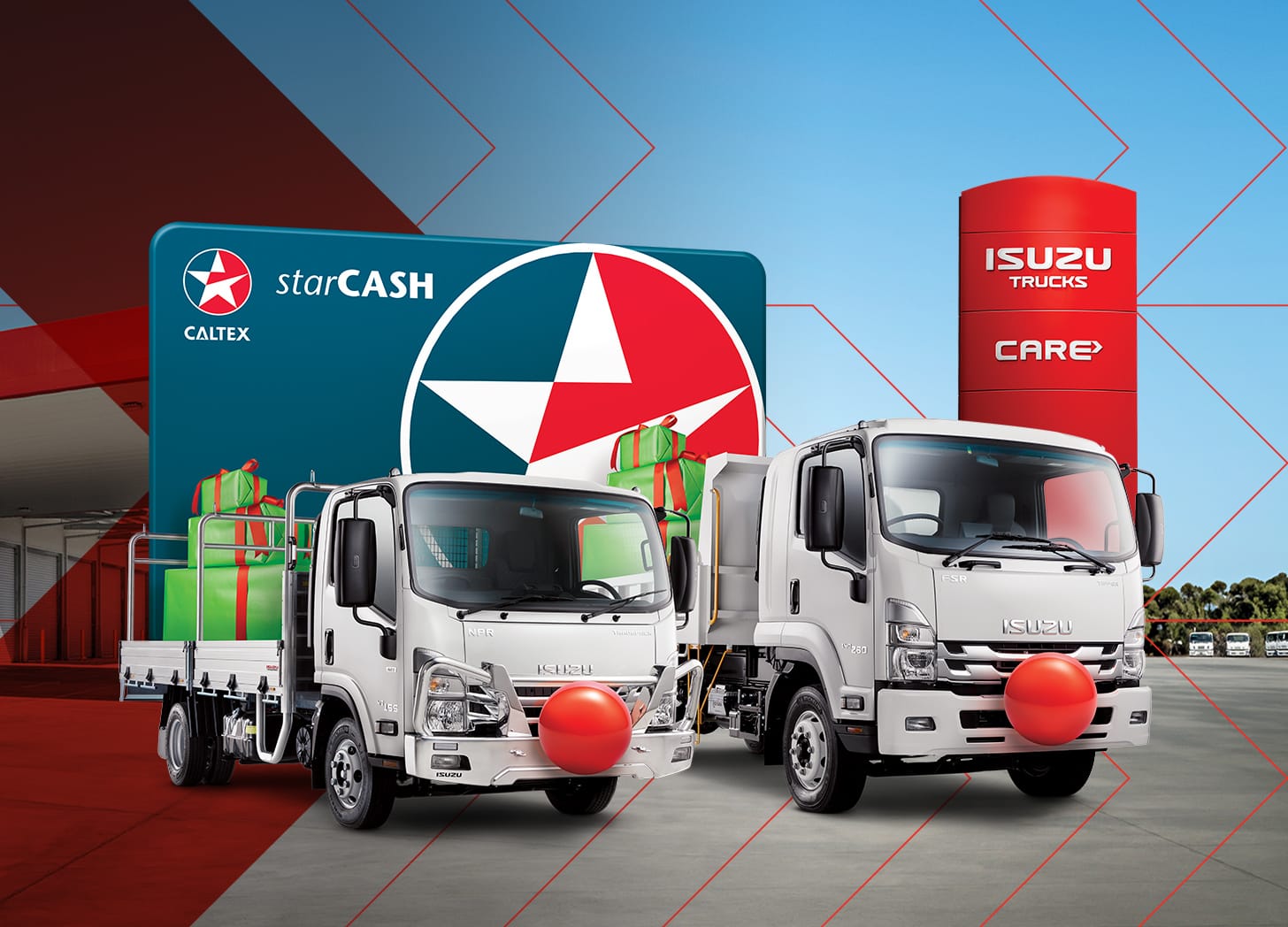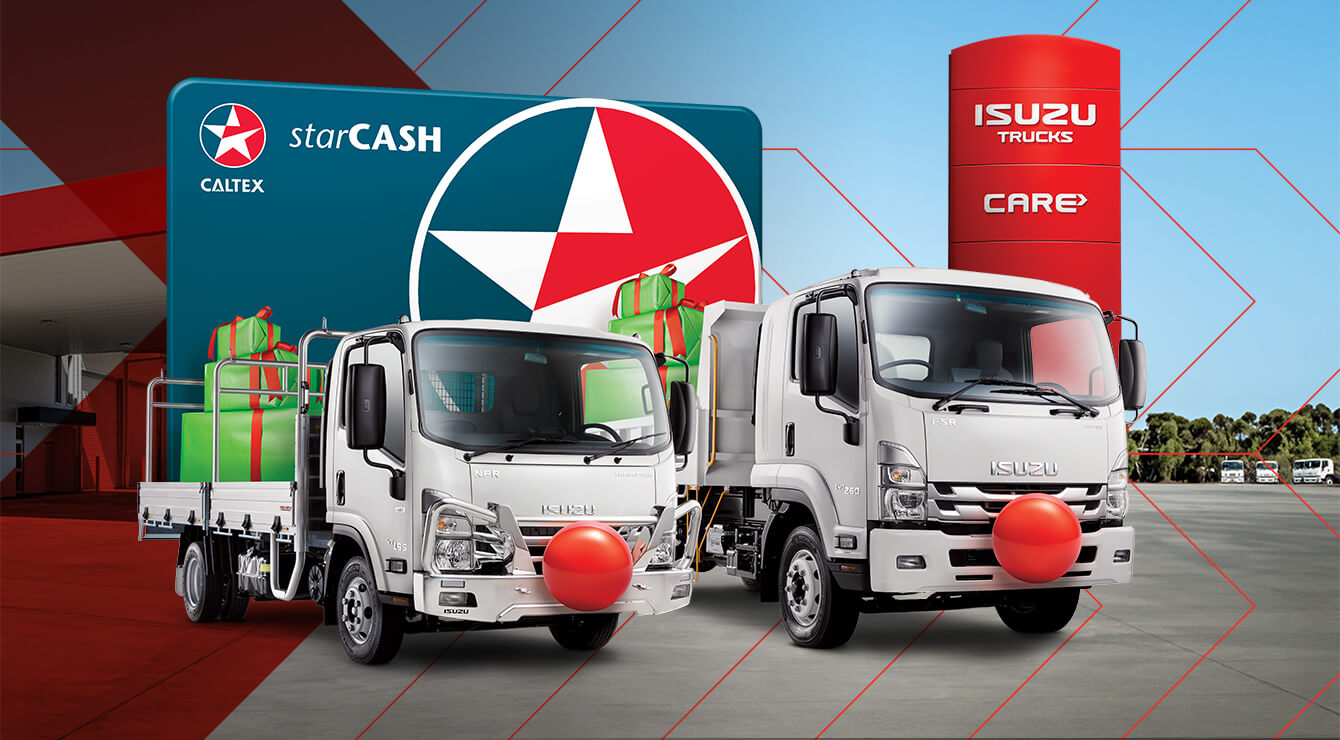 Merry Truckmas - Win $2,000 in Weekly Prizes
Throughout Nov and Dec, Isuzu is giving away weekly $2,000 prize packs, which includes a $1,000 Caltex StarCash Fuel Card, plus more prizes.
Enter now